Senior Leasing Manager Luxury Outlet (Fidenza)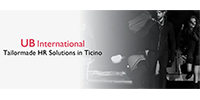 via Ginevra 5; 6900 Lugano, Switzerland
www.ubinternational.ch
Description de l'entreprise
We are UB International, a boutique executive search firm specialized in fashion and luxury goods.

The company was founded in 2013 by Uta Bonacker Regazzoni, who previously was Head of HR in HugoBoss, HR Director Supply Chain Ermenegildo Zegna and VP HR Guess EMEA.

Our HQ is in Lugano near Milano, with branches in Zürich, Zug, Bologna and London. Our team consists of seven executive consultants, each from management backgrounds within fashion.
We operate on an international scale, working with important global fashion and luxury goods brands.
Description du poste
Our client is one of the leading and most successful luxury outlets. They entrusted us with the following very special search of a Senior Leasing Manager with a great and fast career opportunity within the group. This is a Director's role in American terms. So we are looking for a top talent.

KEY RESPONSIBILITIES:

Prospect, sell and negotiate financial, commercial and legal terms to close deals with strategically identified brands for the Luxury Outlet Village

Manage the department and all day to day activities ensuring it is well established and integrated with Village activities and priorities

Develop, coach and performance monitor the department team members to maximise everyone's individual and collective contribution and potential

Proactively support Village Leadership team to create a high performing team capable of successfully running the day-to-day operation of the Village

Work closely with the Retail Director to drive an evolving remerchandising process of upgrading the mix of brands at the Villages

Co-ordinate the Legal and Commercial negotiations and all related documentation for all deals in the luxury outlet, including issuing licences to temporary brands
Support the Leasing Director in the hand over process and development of key Brand relationships

Create a clear financial case to support the Leasing Strategy over the next 2 – 5 years

Liaise with the Retail Department to determine and monitor Brand performance levels

Create compelling presentations for the purpose of externally selling and promoting Village

Participate in commercialisation calls and or meetings ensuring follow up actions are clearly cascaded to relevant parties

Share best practise with other European Villages and Group teams to knowledge share and leverage existing relationships with brands

Develop effective relationships within the Group's colleagues

Manage the annual budget process and contribute to all planning processes affecting the Brand Mix and Acquisition strategy.
Profil recherché
PRIOR WORK EXPERIENCE
Relevant prior experience is likely to include working in Consulting, Fashion, Luxury Outlets or Property business. Prior exposure to a tenancy business model and / or retail operations is a strong advantage.
Most Relevant Competencies Experience is everything:
Always think about the impact of what they are doing; willing to take the lead and drive delivery
Double Digit Growth
: Demonstrate a strong understanding of activities that contribute to business success; brings a commercial angle to their approach; Combines hard data from robust tools with personal intuition to deliver commercial results
Joined up thinking:
Joins things up across the business – links what they & their colleagues do to real outcomes; believes that working together is the best way of making things happen; Engages with others, Is approachable and non-judgmental
Keep improving/ raising the bar
: Continuously looks for ways to make improvements; gets things done at pace; makes constructive contribution to discussions; listens to feedback and acts on it
Success Criteria (Success in this role requires the following core sills to be demonstrated).
1. Commercially minded; analytical and consumer market savvy
2. Relationship builder; internally and externally
3. Negotiation; selling and closing deals
4. Flexible work style; able to quickly adjust priorities and approach to get important work done
5. Balance: People, Process and Task oriented
Qualifications & Experience Required
Knowledge of outlet markets, previous international experience in the commercial real estate field, or the development of stores, franchises or brands. Can also come from a big bank.
Proven experience managing and developing people/a team
A genuine interest and in depth understanding of luxury fashion and up-market brands.
A good knowledge of the leading players and decision-makers for brands and a high quality network of contacts in the fashion industry, particularly in the Italian and international markets
A real talent for negotiation, demonstrating creativity in ability to convince senior executives at leading brands who come from a variety of countries, cultures and disciplines
Demonstrated capacity to work with an agile and open mind in a complex and multinational work environment alongside talented and strong-minded colleagues
Rigor and attention to detail in all aspects of negotiations and the follow up steps
A good critical thinker who has drive, energy and ideas
Essential Skills
Logical thinker, detail oriented and precise
Confident and relaxed with Senior Executives
Strategic thinker
Inspiring performance from others
Strong networking skills
Flexible work style; adapts approach and communication style
Resilient
Determined/ tenacious
Results driven
Disciplined, organised and able to plan ahead
Must Have...
Fluency in Italian and English
university degree
Able to present data clearly, using a variety of formats
Strong interpersonal impact
Eye for / sense of the "luxury market and product"
Track record of influencing others / negotiating and closing deals
Essential Attitude
Positive and solution oriented, international
Our client offers the right candidate an opportunity to work in a dynamic team within an international environment. If you are seeking a great opportunity to develop your career, please send your application letter and CV in English language.
Kindly understand that we will only take into consideration applications that match the job requirements.
Place of work:
Fidenza
Recommandations
Perfect Italian
Contact
Uta Bonacker Regazzoni